Gun Websites is active daily on major social media platforms
We have posted 2A Content DAILY since 2010
---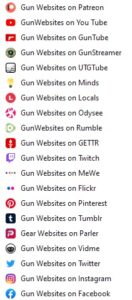 We are on most of the major platforms and a bunch of the smaller ones
If we are not on one you use, or think we should check out, please let us know
Here are the platforms we have channels:
Please say hello if you use any of these platforms so we can subscribe to you
---
2A Media Workshops:
Join us for assistance with your 2A, Gun Related online projects
We go LIVE on GunChannels.com to answer questions and work with firearms projects
Tuesdays at 2pm EST
Saturdays at 2pm EST
---
You Tube
Created: June 6, 2008
120+ Million Views
160,000 Subscribers
4,000+ Videos Posted
Created: January 2, 2009
16+ Million Views
21,000 Subscribers
1,700+ Videos Posted
Created: July 7, 2016
71,862 views
890 Subscribers
482 Videos
---
Instagram
---
GunStreamer.com
Gear Websites on GunStreamer.com
---
Skills & Resources for Second Amendment Advocates and 2A Activists
A place to Learn & Share Information and Skills
2A Media Workshops:Tuesdays & Saturdays at 2pm EST
---
---
Remember Patreon is a platform
The Patreon community is more than a way to just process subscriptions
Patreon is a Social Media Platform of its own, and not a tiny one
Post there, the reach you gain on Patreon, is potentially people interested in FUNDING new, interesting content
People who browse Patreon are interested in being a part of what gets created, influencing what voices get heard.
Share your projects, your goals and your frustrations. People here might just be able to help.
Many of the creators are listening on Patreom too, so you are also reaching out to them. Networking, Collaborations, Meet Ups, etc are all possible.
(Visited 1,103 times, 1 visits today)